Course details
«To Banquet» 【Sun - Thu Limited】 RISSO Classic Popular Course 2H with all you can drink 4000 yen ⇒ 3500 yen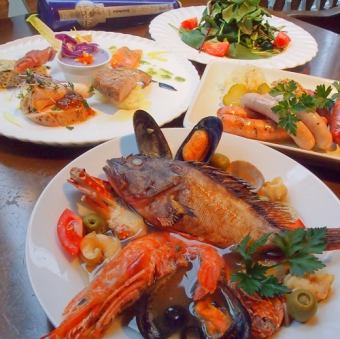 By using a coupon3500 yen
【Sun - Thu limited】 4000 yen ⇒ 3500 yen
All-you-can-drink available

All you can drink from 60 kinds
Reservation deadline

Visit of hope the day before until 23:00
Available days for reservation

Monday - Thurs, Sundays, Holidays
From salads to pastas, German sausages and other, you can enjoy western-style boasts.◎ We also accept courses tailored to your requirements ◎ at corporate banquets and girls' associations.We can also use it for lunch, so please do not hesitate to consult us.We will receive it at 4000 yen per weekend.Sorry to trouble you, but please make a reservation from the course there on weekends.
Course menu
Here is an example of the course.(The number of items will change according to the number of people.6 items - 7 items)
■ Seafood salad with seafood
■ Grilled champignon and garlic oil
■ Today's carpaccio
■ Homemade sausage and putty campagne
■ cheese fondue
■ Today's pasta
★ + 500 yen drink on request for 2 hours ⇒ at 3 hours ♪
* The contents may be changed due to purchase situation etc.
※ Please do not hesitate to tell us your request.
Reservations required by the day before ※.
All-you-can-drink menu
·Cocktail
· "Campari" Campari Soda · Campari · Orange "Jin" Jin Ricky · Jimbach "Rujepeech" Peach tree Fizz · Fuzzy Negble "Rouge Apple" Apple Soda · Apple Blanc "Vodka" Vodka Lime · Moscommele "Via" Chandigaf · Panache "Rugekasis" Cassis Soda · Cassis Orange ...
- Plum wine, fruit wine
· Contract · Aomori produced Tsugaru apple sauce · Fukushima white peach liquor · Yamanashi giant sake · Taiwanese litchi liquor · Florida grapefruit sake (rock · water split · soda cracker)
Shochu
· Fluffy Miraduku Acerola · Fluffy Miramune Yuzu (Rock · Water split · Soda split)
·wine
· Camino di Tierra Cabernet Sauvignon (Red) · Camino Ditierra Chardonnay (White) · Tinzanor Dry (Rock · Soda Break) · Tinzano Rosso (Rock · Soda Break)
·beer
· "Draft beer" The premium · malts "non alcoholic beer taste drink" all free
· Milk base cocktail
· Strawberry Milk · Blueberry Milk · Cassis Milk · Matcha Milk · Kalua Milk
·Soft drink
· Oolong tea · Orange juice · Grapefruit juice · Pine juice · Lemonade
·Highball
· Corner highball
2018/06/20 update