DETAIL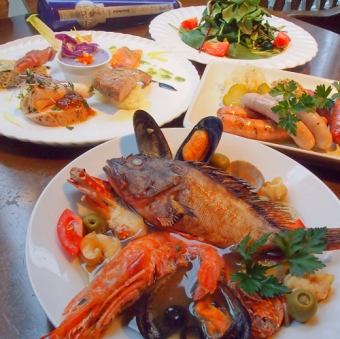 [2H with all-you-can drink] luxury course of RISSO "per person 5000 yen"
5000 Yen
It is also possible in the course of only cooking at 3500 yen.Such as the classic Beef stew and domestic beef RISSO, a little luxury all 8 dishes.Company also banquet and girls meeting ◎ also available courses to suit the needs of our customers.
Menu

It is an example of 5000 yen course.(Number of articles will change to suit the number of people.)

■ marinated seafood and watercress sea

■ domestic beef carpaccio

■ champignon and garlic in oil Grilled

(Smell of the West mushroom and garlic exquisite gem)

■ arancini

(Home cooking in Sicily and Naples, Rice is croquette ♪)

■ mussels champagne steamed

■ minced meat and spinach quiche

■ beef tongue stew and bread

(One dish of also very popular in the classic ☆ lunch of RISSO)

■ of porcini mushrooms peperoncino

☆ + !! to 500 yen in the all you can drink for two hours ⇒3 hours

※ There is the case that the content is changed by buying situation and the like.

Please tell not hesitate to demand ※ ♪

Reservations required by the day before ※.
Coupon that can be used
«Banquet Benefits!»
+ 500 yen free drinking course at 3 hours ★

Presentation conditions

Apply when booking I saw Hot Pepper

Conditions of use

Application at reservation / All courses subject / Course coupon only combined OK / 2 people ~ OK

Expiration date

Until the end of November 2017