DETAIL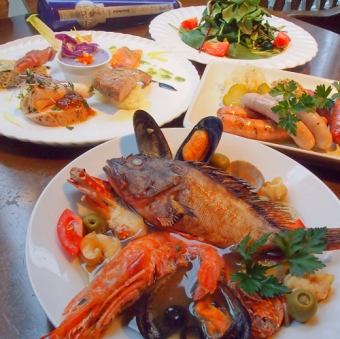 【2H with all you can drink】 RISSO luxury course 5000 yen
By using a coupon
5000 Yen
RISSO's classic beef sushi stew and domestic Japanese beef etc., a little luxurious all eight items.◎ We also accept courses tailored to your requirements ◎ also at corporate banquets and girls' societies.Offering only with dishes is also possible.(Only dishes / 3500 yen)
Menu

It is an example of a 5000 yen course.(The number of items will change according to the number of people.)

■ Seafood and Watercress Marinade

Domestic Wagyu beef carpaccio

■ Grilled champignon and garlic oil

(Exquisite gem with a scent of Western mushrooms and garlic)

■ Arancini

(Home cooking in Sicily and Naples, ice croquette ♪)

Mussel champagne steamed

■ Quiche of ground meat and spinach

■ Beef tongue with stew and bread

(It is a very popular dish at lunch)

■ Porcini mushrooms peperoncino

★ + 500 yen drink on request for 2 hours ⇒ at 3 hours ♪

* The contents may be changed due to purchase situation etc.

※ Please do not hesitate to tell us your request ♪

Reservations required by the day before ※.
Coupon that can be used
«Banquet Benefits!»
+ 500 yen free drinking course at 3 hours ★

Presentation conditions

Apply when booking I saw Hot Pepper

Conditions of use

Application at reservation / All courses subject / Course coupon only combined OK / 2 people ~ OK

Expiration date

Until the end of March 2018