DETAIL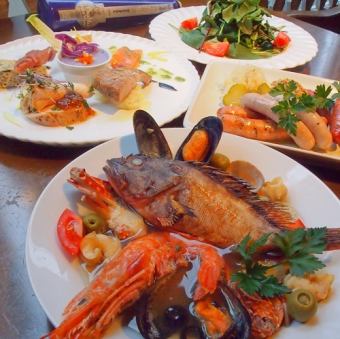 [With 2H all-you-can-drink] classic course of RISSO "per person 4,000 yen"
4000 yen
It is also possible in the course of only cooking at 2500 yen.From salads pasta, risotto until, you can enjoy the pride of Western.Company banquets and, also available courses tailored to ◎ needs of our customers in the women's meeting.
Menu

It is an example of 4000 yen course.(Number of articles will change to suit the number of people.)

■ of seafood salad

■ champignon and garlic in oil Grilled

■ Marinated organic vegetables salmon

■ arancini
(Home cooking in Sicily and Naples, Rice is croquette ♪)

■ German sausage platter

■ quiche

■ clams and basil pasta


☆ + !! to 500 yen in the all you can drink for two hours ⇒3 hours


※ There is the case that the content is changed by buying situation and the like.
Please tell not hesitate to demand ※ ♪
Reservations required by the day before ※.
Coupon that can be used
【2H with all you can drink】 All seven items
Classic course of RISSO 4000 yen

Presentation conditions

At the time of booking

Conditions of use

3 people or more · reservation required before 1 day · lunch not available

Expiration date

Until the end of September, 2017

«Banquet Benefits!»
+ 500 yen for an all-you-can-drink course ★ to 3 hours ★

Presentation conditions

Apply when booking I saw a hot pepper

Conditions of use

Apply at time of reservation / All course subjects / Course coupons only used OK / 2 people ~ OK

Expiration date

Until the end of September, 2017