DETAIL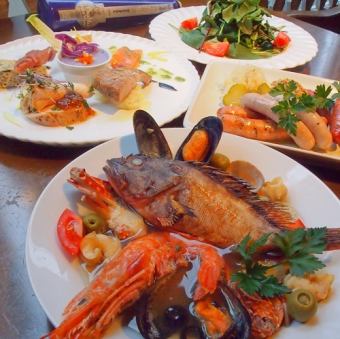 «Farewell reception party» RISSO classic popular course 2H Drinking and attaching 4000 yen
By using a coupon
4000 yen
From Salads to Pasta, Risotto, you can enjoy the western food of your choice.◎ We also accept courses tailored to your requirements ◎ at corporate banquets and girls' associations.We can also use it for lunch, so please do not hesitate to consult us.Offering only with dishes is also possible.(Only dishes / 2500 yen)
Menu

It is an example of 4000 yen course.(The number of items will change according to the number of people.)

■ Seafood salad with seafood

■ Grilled champignon and garlic oil

■ Marinated organic vegetables salmon

■ Vegetable and bread cheese fondue

■ Arancini

(Home cooking in Sicily and Naples, ice croquette ♪)

■ German sausage platter

■ Quiche

■ Pasta with clam and basilco

★ + 500 yen drink on request for 2 hours ⇒ at 3 hours ♪

* The contents may be changed due to purchase situation etc.

※ Please do not hesitate to tell us your request.

Reservations required by the day before ※.
Coupon that can be used
【Also for welcome reception】
All 7 items 2 hours with all you can drink
RISSO classic course 4000 yen

Presentation conditions

At the time of reservation Weekday is 3500 yen / Friday Sunday and public holiday is 4000 yen

Conditions of use

More than 3 people / reservation required / lunch available also available

Expiration date

Until the end of March 2018

«Banquet Benefits!»
+ 500 yen free drinking course at 3 hours ★

Presentation conditions

Apply when booking I saw Hot Pepper

Conditions of use

Application at reservation / All courses subject / Course coupon only combined OK / 2 people ~ OK

Expiration date

Until the end of March 2018