DETAIL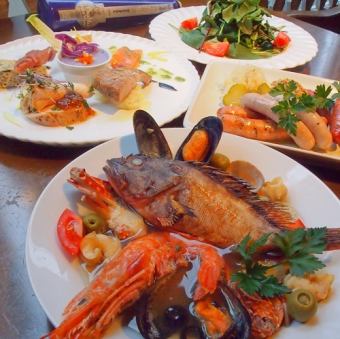 ★ In the New Year's party ★ 【2H with drink all you can do】 classic course of RISSO "4000 yen per person"
4000 yen
It is possible to cook only course at 2500 yen.From Salads to Pasta, Risotto, you can enjoy the western food of your choice.◎ We also accept courses tailored to your requirements ◎ at corporate banquets and girls' associations.
Menu

It is an example of 4000 yen course.(The number of items will change according to the number of people.)

■ Seafood salad with seafood

■ Grilled champignon and garlic oil

■ Marinated organic vegetables salmon

■ Vegetable and bread cheese fondue

■ Arancini

(Home cooking in Sicily and Naples, ice croquette ♪)

■ German sausage platter

■ Quiche

■ Pasta with clam and basilco

☆ + 500 yen and all you can drink 2 hours ⇒ in 3 hours !!

* The contents may be changed due to purchase situation etc.

※ Please do not hesitate to tell us your request ♪

Reservations required by the day before ※.
Coupon that can be used
___ at the New Year 's party ___ ___ ___ 0
Classic course of RISSO 4000 yen

Presentation conditions

At the time of booking

Conditions of use

3 people or more · reservation required before 1 day · lunch not available

Expiration date

Until the end of November 2017

«Banquet Benefits!»
+ 500 yen free drinking course at 3 hours ★

Presentation conditions

Apply when booking I saw Hot Pepper

Conditions of use

Application at reservation / All courses subject / Course coupon only combined OK / 2 people ~ OK

Expiration date

Until the end of November 2017